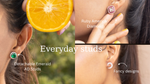 We were thinking of multiple everyday looks and our pure 925 silver studs range just winked at us. The best way to keep yourself streamlined is to add all essential studs to your wardrobe to gain more out of everyday looks in 2023. If you think all studs are the same, you are missing out. 
1. Essential Silver Solitaire Studs : Wearing pure 925 silver solitaire studs steals the show. From all the shimmering nights to the daily office looks, solitaire studs can be your best friend. Silver is an affordable and versatile metal. Every girl must have silver jewelry as it embraces the look in a luxurious way. These can be worn easily with every outfit and you would never regret your investment in beautiful pure 925 silver pieces. American diamonds & silver with a variety of shapes like cushion, oval or floral gives a different look all together. 
2. Level up with Ruby Studs: No matter what the occasion is, ruby studs are all rounders. These are heavy in style and add on to your look in a gorgeous way. Colorful jewelry pieces always create a statement look and they are an amazing element to dress up with. If you are fond of coloured accessories and outfits, having ruby studs is a win-win for you. Why not go for unexpected fancy 925 Silver Studs with ruby? Ruby Silver Studs are suitable for each personality. As a shade of spring, these can help you to bloom & stand out in your go to places. 
3. Eye-catching Emerald Studs: Glamour is a second name for emerald studs. Emerald is a trending color of 2023, which you must add to your closet. If you are ready to dazzle, you can't go wrong with choosing Pure 925 Silver Studs with Emeralds  for your dinner parties, wedding, or occasions. Just remember that these are well suited with minimalistic silver bracelets. Sometimes less is more but not in the case of Silver studs. Emerald is a Versatile color stone, and the combination of Emeralds with your 925 Silver Studs will help you glow and shine in a different way.
4. Timeless Floral Silver Studs: One can never have too many floral Silver studs. Regardless of summer, these are for all 12 months of the year, making them our personal favorites. For 2023, these are our top picks for you as they can be styled with contrasting pieces, and can easily be stacked with other jewelry items. Mini-cute floral silver stud designs can go with every possible look.
5. Party Pearl Studs: Girls, pearl Studs  will help you look gorgeous all day long. No need to check on your earrings again and again, pearl silver studs will look perfect and take the lead role in your outfit. From morning walks to late night outings, these studs will not only give you that extra look but also help you feel connected with nature.
6. Bonus: As you made it till the end of the blog, here is one beautiful detachable studs recommendation for you. We all are fickle minded when it comes to dressing up. To solve this we suggest that you invest in a detachable stud which can be worn in dual ways.
Now, the good news is Twenty One Jewels has a wide range of everyday silver earring studs to fulfill all your daily styling wishes. One or more pairs of studs for all 7 days of a week is a sure shot way of amping  up your style and to bring you joy.