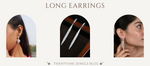 Fashion Trends across decades may have changed, but Classy
Earrings have always been an integral part of styling no matter what
the ongoing trend is. Whether it was the retro hoop earrings of the
90s or the diamond studded long earrings of the 2000s, no party
looks are ever complete without some gorgeous sparkling long
earrings.

In this article we are going to list our Top 3 picks of Long Earrings that
will go with almost all your looks.

1. The Victoria Party Long Earrings on 925 Silver
These Beautiful Diamond Studded Party Earrings on 925 Silver
have been our bestseller season after season. They fall
beautifully in a gorgeous chandelier style and go exceedingly
well with cocktail gowns, dresses and even party suits. You now
Buy this 925 silver long earrings pair at a discounted price on
the Twenty One Jewels website !

2. Needle Pin Diamond Long Earrings
Our absolute Favourite for morning to evening looks. These
gorgeous minimalistic long earrings are understated to
complement your work wear looks and at the same time will
effortlessly be your stunning date night long earrings too! You
can buy these long earrings online on our website very easily
and receive them within 7 days anywhere in India !

3. Firoza Pearl and Diamond Jhumka Earrings on 925 Silver
Last but not the Least, you can never go with classic Pearl
Jhumka Style Long Earrings to style all your Indian Looks. Pearl
Earrings exude so much grace and bring out the best in every
look. This Super Elegant Pearl Long Earrings Design is currently
available at a special discounted price on our website.

These were just our House Favourites! You can check out our
Vast Range of Pure 925 Silver Long Party Earrings Collection
here.
Happy Shopping! Do let us know what you think of our
suggestions in the comments section below.