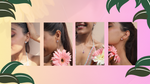 Silver Jewellery Is not only gaining growing popularity in today's times but is in fact becoming the first choice for millennials too. 
However, while picking silver jewellery for your summer looks, it is important to keep the following pointers in mind.
1. Opt for Light Weight Silver Jewellery Pieces in Summers
Yes, this is an important point to keep in mind while picking silver jewellery for summers. You do not want to let the burden of heavy pieces drown you in the scorching heat. Also visually too, easy breezy summery light weight pieces will compliment summer looks way better than heavy silver jewellery pieces. 
2 . Be Careful while wearing Rose Gold Plated Silver Jewellery
It is not uncommon for us to sweat during summers, especially if we have jobs that require us to be outdoors more than indoors. If you are someone who spends more time outside than inside, then we would recommend you to pick more white gold finish silver jewellery pieces rather than rose gold finish silver jewellery as they are prone to faster oxidation when in contact with sweat. 
3. Emeralds go great with summer colours!
Our Summer Wardrobes tend to have summer colours like yellows, neon pinks, greens, orange etc. Silver Jewellery with Emeralds look great with these colours and your emerald silver earrings, emerald silver pendants etc will really pop with your summer wardrobe 
4. Floral Silver Jewellery Designs are your best friends this summer 
Summer and florals are literally best friends! Rather than bold or abstract designs, opt for easy floral silver jewellery to pair with your summer looks. You can never go wrong with fun floral silver earrings or sassy floral silver pendants in summers!
Brands like Twenty One Jewels have exclusive summer silver jewellery collections that will make your styling decisions super easy. Hop on to our Latest Summer 2023 Collection Page and pick designs that suit your personal style! Happy Shopping